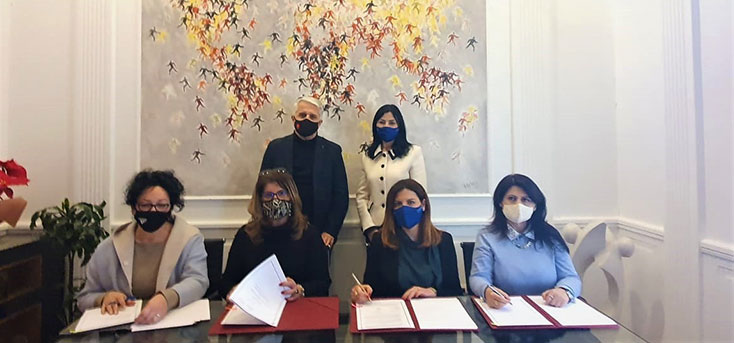 Albanian Diaspora remains a great potential for Albanian social and economic development. According to INSTAT, nearly 1.7 million Albanians live outside the country, mostly in Europe, but also with significant presence in North America (USA and Canada) as well as other regions, representing a huge and largely untapped opportunity.
In this regard, on 12 January 2021, Ms. Alma Jani, the Head of IOM Office in Albania and Mr. Pandeli Majko, the State Minister for Diaspora (SMD) have signed a Cooperation Agreement to work together on the diaspora initiatives that promote, utilize, engage and increase the cooperation between Albanian communities living abroad and Albania.
According to this agreement, IOM Albania can act jointly for the implementation of future projects with the State Minister for Diaspora (SMD); the National Agency for Diaspora; the National Fund for Diaspora; the Albanian Diaspora Business Chamber and the Diaspora Publishing Center, the Center for Arberësh Research.
The main areas of cooperation between IOM Albania and above mentioned diaspora institutions will be the engagement of diaspora communities in the social and economic development of the home country and the strengthening of the relevant Albanian institutions through the transfer of skills and knowledge of the high skilled Diaspora members, in alignment with general policies and other strategic documents in place.
IOM Albania and SMD can set up commissions, committees, or other technical and advisory bodies to advise diaspora engagement institutions on diaspora initiatives and other common interest matters.
A special focus is the implementation of the program "Engagement of the Albanian Diaspora in the Social and Economic Development of Albania" implemented by the International Organization for Migration (IOM) in Albania, the UN Migration Agency, with funding from the Italian Agency for Development Cooperation (AICS) in coordination with the Albanian State Minister for Diaspora, Ministry for Europe and Foreign Affairs and Ministry of Finance and Economy through Albanian Investment Development Agency (AIDA).
CONNECT ALBANIA MECHANISM



---
---
---